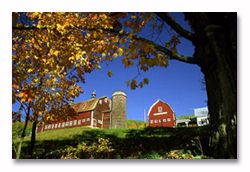 Noted for it's natural and man-made beauty, Woodstock is situated between verdant green hills and the winding Ottauquechee river and is rich in history. The downtown area is home to quaint shops and galleries, and up and down staircases in alleys and along hidden side-streets. Stroll past beautiful examples of Federal architecture, or visit Billings Farm and Museum - a genuine working dairy farm, and one of the oldest and finest in America. Stop in at F.H. Gillingham's, Vermont's oldest general store, founded in 1886 and operated to this day by the same family.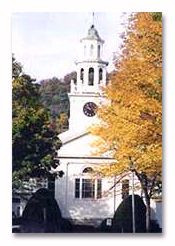 Vermont's first national park, the Marsh-Billings-Rockefeller National Historical park, is within walking distance of Woodstock, and includes tours of the Marsh-Billings-Rockefeller Mansion.
Other attractions in the area include the Vermont Institute of Natural Science (VINS) with nature trails and a unique Raptor Center, the Norman Williams Library, the Woodstock Historical Society, the Recreation Center and Little Theater, the Town Hall where the Pentangle Council on the Arts presents performing arts, and the Green Mountain Horse Association.
Come visit Woodstock and see why it's considered the quintessential New England village, and often called the prettiest small town in New England.